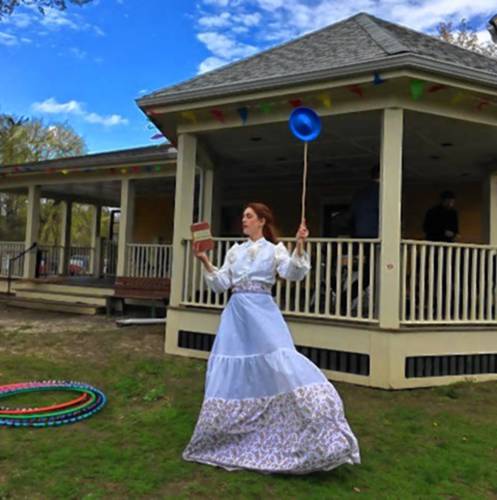 What's a Poetry Carnival…!?

The Florence Poetry Carnival, in Florence Massachusetts, is envisioned with three primary purposes as public art: to present poetry as an inclusive and demographically accessible expressive art empowering creativity, to do so through interactive activities, and to approach and program poetry as a multi and interdisciplinary art form. The Carnival is part festival, part theater, part community building, part performance and part literary. And. Fun.
What's a poetry carnival…!?
The first Florence Poetry Carnival took place on April 27th, 2019 and on April 30th, 2022 we had round two!  The growth and enthusiasm for this community art event increased 10 fold after the two year absence due to the pandemic.
The 2022 Carnival included three associated events: an evening of readings by poets from Perugia Press at the Institute for Musical Arts in beautiful Goshen, Massachusetts; an afternoon of live carnival style events in Florence; and an evening I programmed called "Poetry and Pie." at the Bombyx Center for Arts and Equity, also in Florence and featured Martin Espada, winner of the 2021 National Book Award.
As a public arts programmer I conceived of and produced the event including: programming/selecting and inviting participants, local and statewide fundraising, managing contracts and payments and supervising amazing and generous volunteers and dedicated professionals who worked below their standard rate. The vibrancy and authentic enthusiasm of the community was tremendous. Over 200 diverse members of this Massachusetts community encountered live poetry within 24 hours.
The Festival Grant from the Massachusetts Cultural Council was vital.
The template for a Poetry Carnival to happen in other locales is under consideration.